School Council
The School Council plays a vital role in developing the children's leadership skills. Every new academic year each class votes for 2 class representatives. Their role is to represent the children's voice in the school which is achieved through attending fortnightly meetings with a member of the SLT and through regular class discussions. The children bring their class ideas to the meeting and give feedback about events that they have led.
St Nicholas Church of England Primary School and Nursery
We meet regularly on a Thursday lunch time at noon in Mrs Stevens room
This term we will work on three main activities:
Developing British Values
Understanding our role as councillors
Providing the school community with sporting opportunities at lunch
Understanding the role of the schools leadership team and governors and finding ways they can help us
St Nicholas School Council
Stevenage Love Day 2017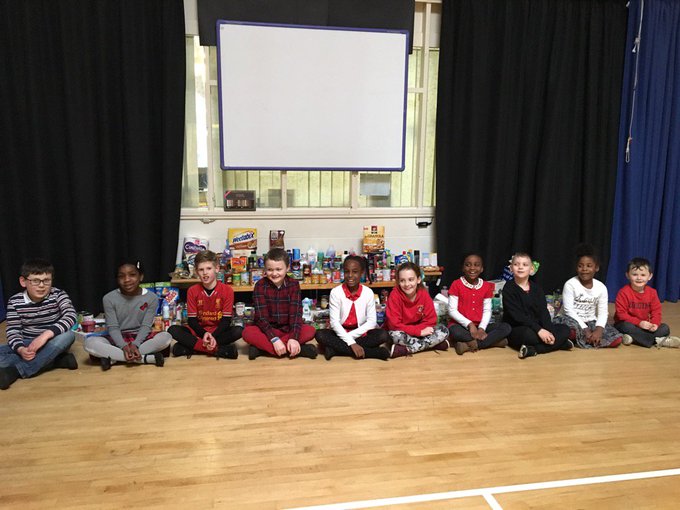 St Nicholas school council are very pleased to be collecting food and toiletries as part of the wider Stevenage school Love day run by Stevenage school parliament. Thank you everyone for your kind donations they will be making their way to our local food bank very shortly. (10.02.2017)
19.10.16 - Today we have been working with 2 sixth form ambassadors.
The challenge:
Launch of walk once a week school travel plan.
Aims:
To work together to find out how to record the way children get to school each day
To work together to advertise the WOW badges
To work together to launch this to all children in our school
Our two sixth form friends, who used to come here to school, helped us with this project and are going to work with use every Wednesday afternoon for 40 minutes. Today we worked on the above.
14.6.16
Fix my Street
Our school council is full committed to Stevenage Schools Parliament. On 13th June 2016 Olivia and Sam attended the summer schools parliament meeting where we discussed:
1. The results of Stevenage Love Day
2. Support for parks and recreation locally
3. Schools parliament visit to London
Next meeting confirmed for 19th September
Olivia and Sam called a meeting of the school council on 14.6.2016. Where they fed back to the school council on the actions needed.
They have decided to support http://fixmystreet.stevenage.gov.uk/ in order to help parks and recreation facilities for children locally.
Watch out for posters and meetings coming soon.
16.5.16
Mad Feet Monday
As part of our school councils ongoing commitment to encouraging park and stride and safe and sustainable routes into school the school council today put on a special event - Mad Feet Monday. The idea is simple come to school in funny shoes, footwear or walk in a funny way. If you do this you can be awarded a special edition Strider badge.
Today we had 220 badges to give out and we gave out 198. This is amazing. We had children skipping, hula hooping, skating, arriving in slippers and much more besides.
Well done school council on such a great event. Here are some pictures from the morning.
12.2.16 Stevenage Schools Love Day
An amazing and wonderful effort has been put in by our school councillors to prepare our children for the Stevenage Schools Parliament Love Day. Today we join with: Broom Barns, Almond Hill Junior, Barclay, Barnwell, St Maragaret Clitherow, Lodge Farm, Trotts Hill, Round Diamond, Roebuck, Ashtree, Featherstone Wood, Mossbury, Giles Infants, Peartree, Ashton St Marys and Shephalbury Park schools in taking part in the first ever Stevenage Schools Parliament Love Day.
The food bank in Stevenage have been overwhelmed by the response and have almost run out of storage space! We hope to upload photos throughout the day of the full amount collected by all schools but for now here are our school council packaging the goods collected by St Nicholas ready for collection.
2.2.16 - School council bidding success for sustainable travel
Earlier this month St Nicholas School Council launched the walk once a week to school campaign. We now know that 134 children in our school have walked at least once a week to school in January - that is amazing! These children will all receive a badge this month. The class that walked the most will be announced during worship this coming Thursday and will hold the Strider Trophy for one month. This means a whopping 64% of children walked or chose park and stride in the month of January. I wonder if we can improve that next month?
To help people in choosing more sustainable routes to school, the school council have been working with Hertfordshire County Council's Anthony Collier in raising funds for a new cycle / scooter pod for the infants playground. We are very happy to announce that with the support offered by Mr Collier our all new scooter / bike pod arrived and was installed today. Here are the school council trying out how strong it is.
School council launch walk once a week - 11.01.16
This Monday during worship the school council were very pleased to announce the launch of their walk once a week campaign. The school council for the whole of this academic year have been raising awareness about safe and sustainable routes into school. This term they have partnered with the living streets campaign, Stevenage Borough Council and Stevenage Leisure limited to launch the walk once a week program.
The school council members will, each day, from Monday 18th January, gather information from their assigned classes about how children arrived at school. Every child who walks once per week for four weeks will receive the badge of the month. The school councillors will also work out which class has walked the most and present a special trophy to that class each month.
The school council have worked with Stevenage Leisure limited to secure the use oft he boating lake car park, have prepared the route and asked for some tidying up by the borough council to make the route safe and have promoted the event in school. They now look forward to greeting the Mayor and other special guest on Monday 18th January at 8:20am as we 'Park and Stride' together from the boating lake car park.
Here are some pictures of them launching the event - with a little help from their friends at living streets Charlotte and Strider.
Don't Be A Road Monster
Today (12th November 2015) the school council saw the culmination of many weeks work by launching the Road Monster Campaign in partnership with Hertfordshire County Council and other services.
The school council have been finding out about ways to encourage parents and children to find safe and sustainable ways to get to school. They have created a parking pledge which you can see here:
We will be asking parents to sign up to the parking pledge. The first 100 children to return their forms will receive a free 'Don't be a road monster' car sticker.
Unfortunately the police vehicles could not attend due to another event but we hope they will be able to drop in at some point soon.
In December 2015 we are meeting with local councillors and the charity living streets to prepare for the launch of the 'Golden Boot!' Watch out for more information and a very large foot launching the event at school on Monday 11th January 2015.
Historical information...
Our first meeting of the year was on Friday 18th September where we worked on two key items: What items did we want to raise at the Stevenage Schools Parliament at the council offices on Monday and also what style of badge would we like this year.
Point 1: On Monday we meet together with 104 other children from across Stevenage to decide what the children of Stevenage would like to improve. Our school council spent time today preparing the year 6 representatives for their presentation which they will make to all the other schools. After discussing many ideas we decided that we would all go away and write some ideas down over the weekend and that we would also like to propose the following items:
To work together as the children of Stevenage to improve the parks and recreation facilities in our areas as many of the play parks have items missing or are vandalised and we want all of our children to be able to go outside to play.
To run a mini masterchef / bake off style competition focused on healthy eating perhaps working with Herts Catering and ending in a big event where we celebrate together healthy eating for children across Stevenage.
To host a number of charity led competitions - basketball, football, gymnastics where the aim is to raise funds for a charity of our choosing based in Stevenage.
Martyna and Sam will attend the big schools parliament meeting on Monday as the St Nicholas representatives and will feedback to our school during worship sometime next week.
Point 2: We had a choice of three badges to choose from and decided to go with a shield shape which has on it a picture of a helping hand / friend or similar to show that we are here to help the other children in our school.
AOB:
To order badges and display our photos in the entrance hall.
Questions for governors:
None this time